Linton-on-Ouse Photocall, 31 July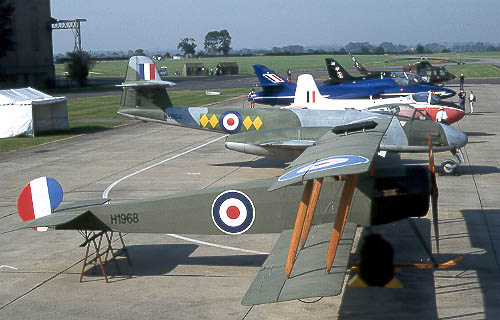 Roger Cook reports on the 80th ANNIVERSARY OF NO. 1 FLYING TRAINING SCHOOL, LINTON-ON-OUSE.
No. 1 FTS is the oldest military flying school in the world, being formed at RAF Netheravon, Wiltshire on 29th July 1919 with the Avro 504K. Before the second World War it moved to RAF Leuchars, Fife and moved to its current Yorkshire base in September 1957.
To celebrate its 80th Anniversary a small, but interesting, photocall was arranged at Linton on 31st July. Although much of the promised line-up did not make the day there was still enough to make the event worthwhile on a brilliant sunny day. The stars of the day must, of course, be the two visitors from the Slovenian Army. There was also a line-up of 37 Tucanos to form the 21 aircraft flypast in the shape of a figure 80.
Military visitors consisted of (click highlight for picture):
Serial
Type
Unit
XX194
Hawk T1A
100 Sqn
XX316
Hawk T1A
74(R) Sqn
XX495/C
Jetstream T1
45(R) Sqn
XX537/C
Bulldog T1
Yorkshire UAS
XX543/F
Bulldog T1
Yorkshire UAS
ZG969
PC9
BAe Warton
ZH127
Vigilant T1
642 VGS
H2-35/35
Bell 412EP
Slovenian Army 15 Brigade
L9-67/67
PC9
Slovenian Army 15 Brigade
MM55076/61-144
MB 339CD
AMI 61 Stormo
MM55072/61-140
MB 339CD
AMI 61 Stormo
AT05
Alpha Jet
FAB 9 Wing
ST-47
SF260D
FAB

Civilian warbirds present wearing full military uniform:

Remarks
H1968
Avro 504K
Yorkshire Aircraft Museum
WK864/C
Meteor F8
Yorkshire Aircraft Museum
XP640
Jet Provost T4
Yorkshire Aircraft Museum
XL571/V
Hunter T7
Yorkshire Aircraft Museum
Blue 92 Sqn marks
WV318
Hunter T7B
Delta Engineering
Black 111 Sqn marks
WD390
Chipmunk T10
WK628
Chipmunk T10
KF584
Harvard
XN459
Jet Provost T3A
T7909
Tiger Moth
T7281
Tiger Moth
PL965/R
Spitfire PRXI
BE417/LK-A
Hurricane XIIb
Real Aeroplane Company
111836
AT-6C
69/2028
Nan Chung

Copyright Roger Cook, Pynelea Photo Bureau